The bifold door from ArborCrest is the new high value solution to new homes and home improvements.
A stunning door for any home. The Bifold door can be manufactured to suit both small and large openings and available in single or double glazed options from ArborCrest in Adelaide. As we custom make all of our Bifold doors in our factory using the latest computer operated equipment and Australian made components, we are flexible with the configuration of your Bifold door and will work with you and your new home or door replacement or enlargement needs.

We can also add Sashless windows or Louvre windows to your bifold door panels, to increase your ventilation whilst your doors are closed

We recommend maximum bifold door sizes up to 3000 high and 6000 wide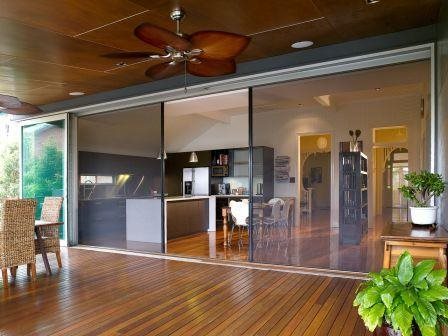 ArborCrest aluminium windows and doors are proud to offer greater practicality to our bifold doors, with the optional inclusion of Adelaide's best inbuilt retractable screen.
What else can you offer?
Depending on your door width, we can also offer you a block out screen which will share your flyscreen frame. What this means for you is that during the day you can keep the flys out and then at night time you can close the block out screen for evening privacy, therefore no need for a curtain or window furnishing which means you save $.

What other information do I need to know?
This standard proprietary screening system allows screening up to 3 metres high and 5.76 metres wide. (Design limitations apply). With Load Balancing Technology as a feature there's no harsh spring loaded slamming doors as with other systems. It opens from any height on the stile making it suitable for use by children be means of a simple magnetic catch. When not in use, the screen rolls away completely unseen. The hard wearing mesh is easy to clean and resistant to pets. Entertain all year round and keep out annoying bugs!
ArborCrest bifold door installations
Our team at ArborCrest boast many years experience in window and door replacements and are skilled and licenced to carry out structural projects as well. If you require a complete wall removal to fit your Bifold door, we will take care and carry out the entire project from start to finish. If you need to remove an old tired window and enlarge the opening to fit your new Bifold door we can do that also. We pride ourselves on providing the best aluminium doors and windows and only the best customer service.

For further information on our window and door enlargements, click here window enlargements
Standard features
150pa water rating
N4 1500 pa
Glazed in 6.38mm clear laminated safety glass
Elegant stainless steel hardware
Sleek chrome flush bolts
Inward or outward stacking
Styles available
Double glazed
Energy efficient glass
Bifold window for kitchen servery
Tinted glass
Sashless windows fit into door panels
Louvres fit into door panels
Active doors available including hardware
Retractable screens
Retractable blinds (curtains)
Able to slide to either one or both sides
Flyscreens available when sashless windows fit into door panels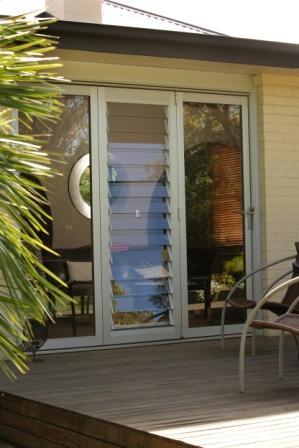 Contact our team
E-mail:

Sales@arborcrest.com.au

Phone number:

08 8363 7193

Do you need a quote? Just provide some simple details in your email.

Contact details including phone number and address
A quick snapshot with your phone of the existing area and some information on which ArborCrest product/s you're interested in
Approximate dimensions H x W (These will always be confirmed via a site visit)

****Please note, ArborCrest will generally not quote on any small projects, ie 1-4 window replacements or any repair work.*****