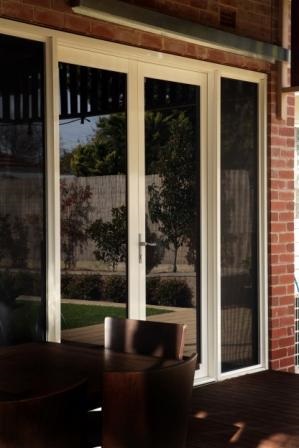 French hinged doors Adelaide
If functionality is what you require from a door, then the platinum, semi-commercial, French hinged door is the product for you.
Our french hinged door has multiple uses and style configurations that range from:
- Double doors
- Single doors
- Single or double doors with sidelight/s
- Single or double doors with awning window highlights
- Sashless windows to sidelights (as picture left)
- Inwards or outwards opening
The Platinum french hinged door range is also designed to attach to louvre galleries and will comfortably accommodate any timber product to its framework.

Our wide sub-frame also includes space for fitting of flydoors or security doors, so there is not need to be concerned about flies or bugs when the doors are left in the open position.
ArborCrest aluminium windows and doors also offer Adelaide customers the option of our window replacement service If you would like to take out a small window, have the brickwork cut and removed and then a beautiful full glass french hinged door installed, we are the people to do the work for you without the need of appointing a builder. We will also take care of all the structural work and engineers calculations if required.
Standard features:
Glazed in 6.38mm clear laminated safety glass
Active door leaf
Inactive door fixed by chrome flush bolts
Satin chrome handle
Architecturally designed heavy duty stainless steel 4 Point mortice lock
Inwards or outwards opening
Stainless steel hinges (3 per door leaf)
125mm Platinum subframe including all weather seals
Design options:
Louvres to door sidelights or highlight
Sashless windows to door panels or sidelights
Double glazed 22mm or 25mm insulated glass unit
Obscured glass available
Available with chair rails for commercial application
Heavy duty commercial closers suited
Invisi-gard security doors fit into the wide framework