The epitome of frameless bifold partition doors have arrived at ArborCrest.
When world class engineering, style and class are what you desire for your home, look no further than these beautifully designed doors.
Our German and Swiss designed frameless Bifold door systems from Hafele, are internationally renowned, versatile and most importantly elegant. A true movable glass wall that can be designed and installed to tuck away against a wall, inside a cavity, behind a cupboard door or negotiate around corners with ease.
Variotec 150GV
The king of frameless bifold doors, the Variotec 150GV, holds pride of place in our range. Able to accommodate panels up to 3500 high and 950wide, the Variotec can easily cater for individual panels weighing up to 150kg each. With a multitude of slide and stack options, the Variotec panels can stack against a wall, parallel to a wall or even into a cupboard to be completely out of view.
The magic happens in the ceiling where the top track branches off into two, allowing ultimate design flexibility.
Accommodating glass up to 19mm thick, the Variotec can be used for stunning Alfresco areas, room dividers, office partitions or pool enclosures.
Being top hung, there is no bottom sill, meaning no steps or lips to contend with allowing for the same floor level inside and out. Floor locks are operated by a foot bolt which disappears into the bottom rail of the door when not in use.
Both of our frameless Bifold doors are suited to either new homes or on one of ArborCrests exclusive living room renovations, window enlargements or door installations. When removing walls to increase living spaces, incorporating either of our doors will create the feeling of even greater space with an uninterrupted wall of glass.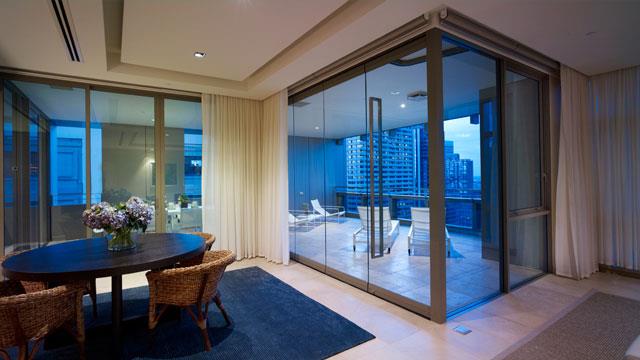 Retractable screening
As with the majority of ArborCrest products, our frameless Hafele Bifold doors can also be installed with our amazing retractable screens. Up to 3200h x 7600 wide openings can be screened easily. When tucked into its framework, these screens are invisible and will not obstruct your space or view. When designed in conjunction with your new frameless bifold doors, the retractable screen tracks can be recessed into stud walls and ceilings to create a truly seamless masterpiece.
If you're searching for doors that have that European class, manufactured by a great local company, make a time to come into our showroom and experience the Solarlux and Variotec for yourself. We look forward to seeing you.