Retractable Screens Adelaide
ArborCrest is proud to offer Australia's highest quality and most reliable retractable screen system for our aluminium sliding door and aluminium bifold door product range.
In the past, many customers would have previously tended to shy away from the bifold door as an option for their home. Their concern was for how they would keep flies out while the doors are open. Well, the solution has arrived!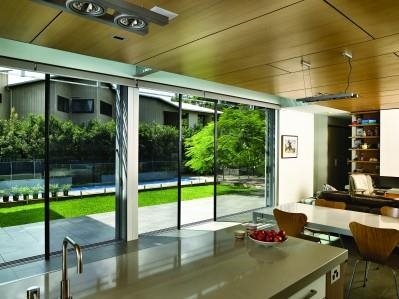 ArborCrest retractable screens Adelaide
Retractable screen benefits
Screen large openings, while preserving your views and your indoor-outdoor space.
Sizes range up to a massive 7.6 metres in width and 3.0 metres in height
Ease of operation – simple enough for the entire family to use with single finger operation
A screen and blind can be combined in a single unit in openings up to 3.9 m wide
Is a discreet and functional screening option for folding doors and windows, kitchen serveries, sliding and French doors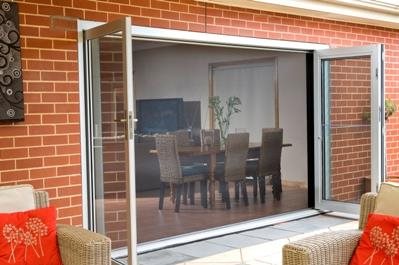 Retractable screen and blind

Retractable screen available in 2 styles
We offer both an inbuilt screen options for our Bifold doors, this is called our HAWKESBURY PLUS system and also, our 'plant-on' retractable screen for both our sliding and bifold doors, called the S1 system.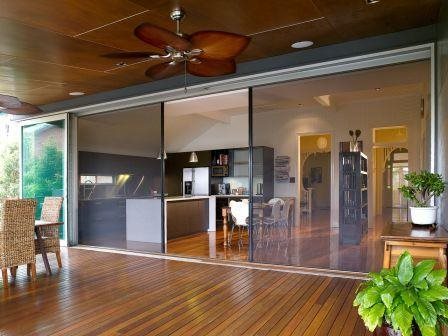 4 Sliding door with retractable screen
Retractable screen and blind
The ArborCrest retractable screen and blind system allows you to not only control bugs but also privacy, sunlight and temperature within your home. This screens remarkable thermal insulation helps improve your energy efficiency and is suitable for use with the S1 'plant on' screen system.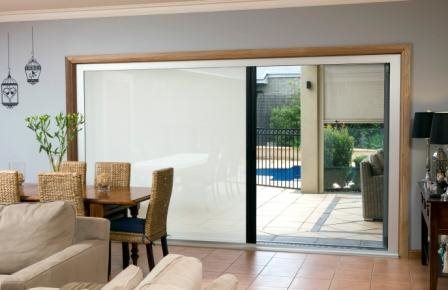 Bifold door retractable screen and blind
There is a wide range of colour choices for the blind portion of your screen, so don't be concerned about dirt or marks that may ruin the appearance of your product, we do have darker choices for you too.
How tuff is the retractable screen?
All retractable screens used by ArborCrest are tough enough to withstand real-life use and are backed by a five-year warranty. Our amazing supplier, Centor, has completed comprehensive cycle testing to 400,000 cycles, and tested exposure to dust, mud, sand and salt spray to ensure reliable operation well beyond its five year warranty. The system has also held up to impact testing with a 17 kg punching bag 100 times, as well as thorough poking, prodding and pushing from Centor's Research and Development team.
Both Hawkesbury Plus and S1 screens are made from a hardwearing polyester/PVC material which makes it more resilliant to children and pets. Centor's Tight Technology™ also ensures that the screen remains straight and tight over the widest areas.
Just ask and we will include a retractable screen option in your quote today.