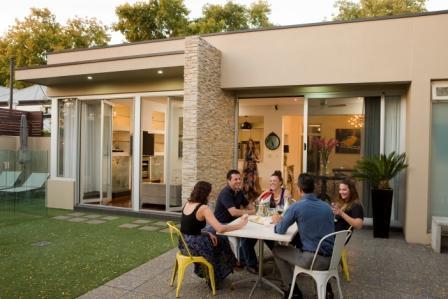 ArborCrest testimonials
Please enjoy reading the feedback from ArborCrest latest customers on their door installations or window replacement service. We thank all of our customers for all of their comments, both verbal and written and are proud to forward them on to you, to view. If you would like more information about what type of window replacement or structural door enlargements that we offer, please visit our pages located on the menu at the top of our website under window replacements.
---
Testimonial
Thank you to Arborcrest for transforming my existing old sliding doors and back door. I now have modern and safe sliding doors with a sophisticated, fresh look. Peter who attended to quote interpreted what I wanted and took my "grand designs" and worked with me to within my budget. He provided a solution to a problematic area which I would not have been able to come up within myself. The quote I received was excellent and I knew that I was dealing with a very professional company. Michelle was fabulous to deal with on the phone and Roy, my fitter did all he could to work within my household schedule. I couldn't be happier with Arborcrest and would recommend them to anyone wishing to upgrade and to work with a company which actually delivers what it promises. I will certainly be calling them again when I upgrade my windows in the near future.
Gillian Pearce @ Woodville Park
I would like to pass on our sincere thanks for the recent removal and replacement of the laundry door and surrounding framework to our house. We had obtained three quotations for this project and only included ArborCrest in this group after viewing your advertisement on television. From the initial contact with Michelle who arranged the on-site inspection day and time to suit all parties then Paul Parisi who provided various alternatives and recommendations through to the completed job, we were extremely happy with the entire process.

Could you please pass on our thanks to those tradesmen involved with this project as their work was excellent.

We would have no hesitation in recommending ArborCrest, as their attention to detail, product quality, and willingness to co-operate with installation day/times were qualities that impressed us.
Mr W Wilson @ Brooklyn Park
I began investigating a solution for primarily, road noise, at my home in Osborne earlier this year having received an 'offer' of sorts from an alternative provider. Although their product seemed fit for purpose, their lack of documentation and service history was clearly derelict.

I recalled at the time having seen ArborCrest advertising on television and checked out your web-page. A snappy enquiry via the web with basic details was sent and promptly replied to with an invitation to follow-up.

The additional contact and supplied information clearly led me to the conclusion that ArborCrest were clearly superior and taking the fake discounts out of the price were in fact in the same price range.

Prior to build, check-measures were done twice with an opportunity to modify the existing plan taken up. Although the planned install date did move to the right, not without good reason and within acceptable time-frames.

Immediately upon installation, the decrease in road noise was clearly discernable; cars were no more and trucks reduced to a rumble rather than a rattle. Additionally, within days (if not hours) an increase in thermal efficiency was clearly detected in that our heater was not cutting-in as often.

I am very pleased with the ArborCrest product, with absolutely no pressure-tactics or fake discounts, true 'family' service and good wholesome honest communication; I would recommend ArborCrest to any home requiring a window (or door) solution.
Mr Knight @ Osborne
"We are delighted with our new living space achieved by replacing a small window, door and solid wall between our kitchen and outdoor living area with ArborCrest bi-folding doors.

From the quotation to the finished product we could not of been more impressed with the service and products offered by ArborCrest.

We have and would highly recommend Arbocrest."
@ Glenelg
Please click on the below picture to view our latest video testimonial
@ Newport Keys
I have to say we are thrilled with our new look house and thrilled how painless it has been so far.


The fellows who were here today were great, efficient, friendly and professional. What I am most impressed with how everything was so well coordinated, skip, glass, frame and bricks. Hopefully tomorrow will be just as smooth going.

Just an update on our make-over…I am so impressed with the workmanship, the professionalism…I have taken more photos but have had a rather hectic day and I am now relaxing looking out of my new window with a glass of merlot! The 'brickie' has done a fantastic job…I will certainly be recommending your company. Steve will be back tomorrow to finish off some final things.


I cannot believe this has all been so painless.
Maria @ Hove
We'd already had ArborCrest replace all the large old wooden windows along the front of our house. Delighted with their prompt and friendly professional service, workmanship and price we have just had another window fitted. We cannot recommend ArborCrest highly enough, a local company with first class products and customer service.
Dave & Wendy @ Salisbury Park
To the ArborCrest team

I just wanted to say how well the work was done at my daughters place. The frame work is great and then the way it was finished off around the eaves, threshold and particularly inside was no less than excellent. Also the place was left clean and tidy.
Ken @ Mitchell Park
'We were impressed by the design of ArborCrest windows that friends of ours had installed, so we decided to contact them for discussions about our specific needs.

ArborCrest staff's approach to the design and materials selection process was collaborative, flexible and thorough. All of our suggestions were considered and the installation was handled professionally by a top quality tradesman with minimal disruption to our routines.

The results and the attention to detail were stunning and have added quality to our home which is visible everyday in the materials and functionality of the design.

We wished that ArborCrest were around when we had put in our original windows- it would have saved us a lot of time and money!

They are friendly and professional"
Chris @ Mile End
I just wanted to thank you again for your professionalism and time, in this day and age we respect this more than anything else and it made our decision to go with you a lot easier.

Once again thankyou and we look forward to the installation of our sliding door/windows.
Angelo @ Manningham